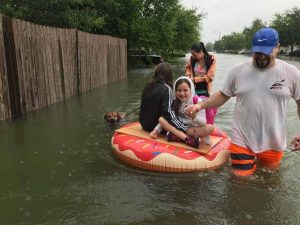 God Strong
This has been on my heart for the past couple of days. Joshua Hull and I have been in 3 major historical floods now in our lifetime and each one in a different state. One thing each state had in common…"(state name here) Strong" was their motto. I understand that we all want to be proud of the state we live in and support, but I can say that another thing they all had in common was a charitable heart, empathy, and LOVE. In Kansas, Colorado, and Texas we have seen giving hearts, compassion, and charity during all three disasters! And…. So many people came from all parts of the United States of America. We couldn't recover without the Cajun Navy from Louisiana, police officers, Firefighters, National Guard and other Military personnel, family, and friends and volunteers, etc.! Most importantly I can't deny God's goodness and faithfulness! So for my family, we aren't just Texans… we are a little piece of every community we have been a part of and we are very blessed to have a large family because of our travels beginning with our first temporary home in Arizona!
So I'm going to end with this: Instead of saying we are Texas Strong, I am going to say I'm so Thankful to be God Strong! He gives us our strength to continue through each day and through each tragedy. He has rescued my family! Praise Him from whom ALL blessings Flow! ❤️ Amen!
We love you all and thank you for allowing God to use you to bless others in need during this time!
Amber Hull